Pillole Musicali
Esibizione dei Bedroom Symphonies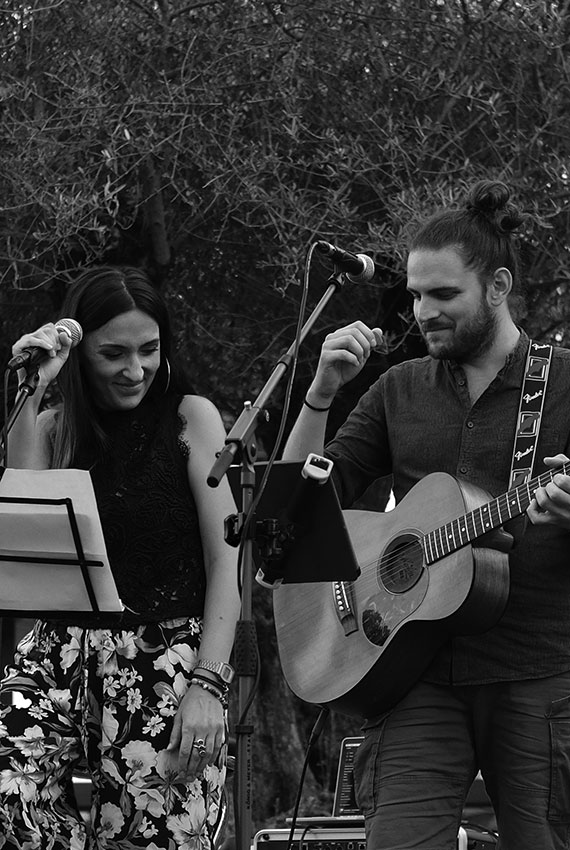 Serena Fontanel e Enrico Casarotto
I Bedroom Symphonies sono un duo acustico formato da Serena Fontanel alla voce ed Enrico Casarotto alla chitarra acustica ed effetti.
Professionisti del palco da più di dieci anni, la formazione si cimenta nel riscrivere grandi successi del cantautorato internazionale. La formula è quella di ricreare l'intimità dei brani, riarrangiando i brani per stravolgerli, giocando con le atmosfere delle sonorità elettro/acustiche, affinchè il pubblico possa vivere un sogno fatto di parole e suoni, dove l'immaginazione cresce e crea una nuvola musicale, unendo i musicisti ai partecipanti.
Il repertorio spazia da Dalla, Sting, Radiohead, Springsteen, Simon and Garfunkel, fino ai moderni Fleet Foxes, Erlend Oye, Florence and the Machine, e molti altri.
Polinote
Fondata nel 2013, Polinote cooperativa sociale onlus è una realtà di riferimento per il territorio nel campo della formazione e della promozione musicale, la cui attività è sviluppata da un team di insegnanti qualificati e con ampia esperienza didattica.
Con entusiasmo e passione realizza numerosi progetti didattici e di avvicinamento alla musica attraverso la pratica di uno strumento o del canto, rivolti a bambini, ragazzi e adulti, spaziando dalle proposte classiche a quelle moderne, dai progetti per i giovanissimi alle accademie di perfezionamento.
In calendario
L'evento si terrà sabato 29 maggio ore 18.45 -20.00 al Chiostro
Chi vuole partecipare può prenotarsi qui
Per chi lo desidera, sarà possibile seguire la diretta streaming su:
Il protocollo di sicurezza
È vitale che ogni partecipante al Festival rispetti con rigore le disposizioni anti-contagio previstedall'emergenza COVID-19. Per garantire la massima sicurezza saranno regolamentati e contingentati gli accessi e gli spostamenti nel Chiostro e nella sala Degan, verrà richiesto il mantenimento delle distanze fra le persone e di applicare le misure igienico sanitarie previste.